Our School
Break Through School is an independent alternative provision located in Belvedere, Bexley. We provide high-quality education and care for the huge range of needs that exists across the behaviour spectrum, and operate over two sites to deliver core subjects and additional curriculum such as BTEC qualifications, humanities, art, and ICT.
We offer a structured environment centred on a meaningful and contextualised curriculum offer. Our clear purpose is to make an enduring difference to our learners' lives, providing them with the knowledge, resilience and skills to enable them to have lasting employment and lifelong success.
We offer a range of core therapies to support learners with their learning and developmental needs, including one to one counselling sessions and Speech and Language Therapists.
To provide a holistic approach to supporting our young people in their quest to thrive, we offer additional activities such as school council, PAD training (boxing) with our trained staff, as well as 1:1 academic support for Key Stage 4 students. We strive to provide additional clubs according to learner interest and demand.
Our curriculum delivers learning in 'Employability' and our Key Stage 4 learners are able to take part in the Duke of Edinburgh Bronze Award.
The school believes in the value and importance of building positive, trusting relationships with young people and in supporting and enabling them to make choices, informed by an understanding of the consequences of their choices. Relationships are at the core of all we do at Break Through School. We believe that caring and respecting is what changes the behaviour of young people.
Our school aims to work with young people who choose to be at the school. Break Through aims to promote positive attitudes towards learning, so that young people enjoy school and feel safe and comfortable coming to school, acquiring a solid basis for lifelong learning.
We believe every experience is a learning experience and all staff maintain a non-judgemental approach to working with young people.
The school supports students to embrace different learning opportunities, whether that be gardening, creating artwork or visiting a local place of employment, thus opening up experiences and building their cultural capital.
Our Purpose, Mission, Vision and Values are central to everything we do at Break Through School.
Purpose
To provide learners with the best opportunity for lifelong success.
Mission
To empower all young people to live happy, fulfilling, autonomous lives in society, by gaining the necessary knowledge and skills.
Vision
To support and value every young person regardless of their starting point, to achieve their potential through key stages 3-5 & beyond.
Values
This will be delivered through a commitment to equity, integrity, empathy, mutual respect and trust.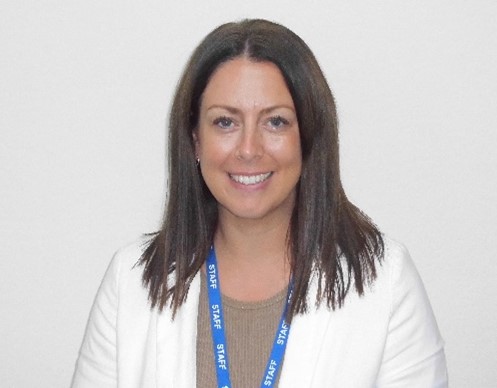 Ruth Elliott – Principal
As Principal of Break Through School, I am absolutely delighted to be continuing the excellent work of our Executive Principal, and former Principal, Henrietta Jordan.
During my career, I have been fortunate enough to work across a range of school settings, including mainstream comprehensive schools and within the private sector, in a variety of roles. Throughout this time, my passion for supporting young people who have struggled to successfully access education or who are otherwise ostracised from their community has grown and grown.
I am delighted to work with such a talented and skilled group of colleagues who support our ethos and vision to provide aspirational education alongside our excellent pastoral care. We work together tirelessly to ensure our young people have their social, emotional and academic needs met, whilst also talent spotting the incredible set of skills our young people have.  Helping them thrive, and recognise and develop these skills, which are often hidden away, in a safe, caring and nurturing environment, is nothing short of a pleasure.
Having had my own challenges in education as a child, I use these experiences to ensure that every learner who attends Break Through School receives the highest standards of education and is exposed to a variety of life opportunities to help them achieve their potential. At Break Through, we are passionate about embodying our ethos and values through and through, and this is seen and felt by everyone who visits the school. This was recognised and commended in our recent Ofsted inspection, which said, "Pupils at Break Through School belong to a true community, one which is inclusive and aspirational for all."
I am immensely proud to be part of not only the Break Through school community, but also the wider cohort of Melrose Education schools, meaning our school benefits from a wide range of supportive and talented peers.
Our Latest News
Staff at Break Through School, an independent school for children with additional needs based in...

All schools across the Melrose Education group have today adopted the The Halo Code, the...

Melrose Education today became a Real Living Wage accredited employer. The Living Wage is an hourly...